'Vitale Rassen' is a non-profit organisation founded in 2019, from the dynamism of the organic horticultural company Akelei located in Schriek (Flanders Region of Belgium).
It works with a network of organic farmers and horticulturalists committed to preserving crop biodiversity by participating in variety selection and seed production of reproducible and resistant crops, which can contribute to the regeneration and conservation of the local genetic heritage.
Vitale Rassen is managed from the Akelei farm by Greet Lambrecht (general coordination, seed cleaning and quality control), Sam De Raeymaeker (seed cleaning) and Floriaan D'hulster (social media and sale).
---
Greet Lambrecht, one of the founders of the three association, used to direct the network of organic seed growers called 'Zelf Zaden Telen', which has been involved in strengthening the cooperation between organic farmers and their responsibility for variety selection and seed production.
The network still exists and develops various initiatives – visiting local vegetable growers, promoting the exchange of experiences and practices, organising training activities and excursions, meeting every year to clean seeds at ILVO, etc.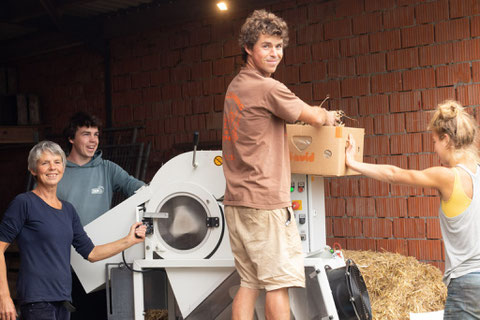 The ambition of the network is to reintegrate the activities related to seed multiplication into the farms, promoting the independence of farmers and market gardeners, as well as the production of seeds adapted to the soil, farming and climatic conditions of Belgium.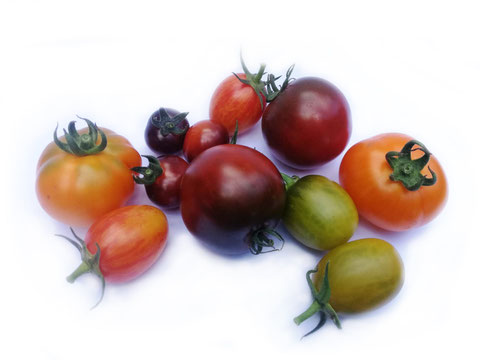 A particularly important step forward was the creation, in 2019 of the association 'Vitale Rassen', aiming at centralising the seed production of the network in one place, to facilitate the coordination.
The ten farmers behind this initiative proposed to the members of 'Zelf Zaden Telen' to conclude cultivation agreements whereby each of them would propagate one or more varieties on behalf of Vitale Rassen.
After an initial rough threshing, the seeds are centralised in the biodynamic horticultural farm Akelei in Schriek, where they are reproduced and further cleaned, stored, packaged and distributed.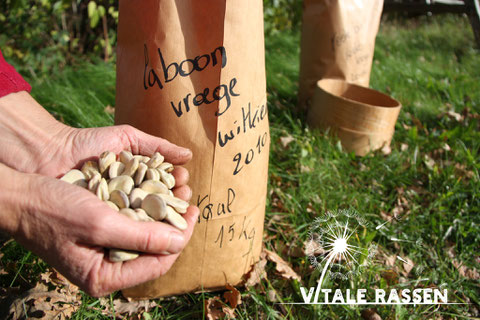 On January 1st, 2021, a webshop was set up to improve the distribution. It already offers a good range of organic vegetable, herb and flower seeds to farmers and gardeners. The ambition is to expand this assortment, by developing cooperations with new farmers, in order to offer a nice and diversified mix of local, well-known, less known or endangered varieties.
---
Vitale Rassen's seed collection is still very young, but has been well developed since January 2021.
The association now detains around 100 vegetable varieties and 50 flower varieties. Its growth will depend on the number of farmers joining the project, but the association wishes to go slowly and limit its development in order to keep a human dimension, to concentrate on varieties that need to be reproduced and to guarantee maximum quality by being close to its collaborators.
Seeds are multiplied and produced by certified organic farmers on their own farms. Some of these varieties have been selecting and propagating annually for 30 years; but some others have only been propagated once under organic conditions.
Farmers multiplying seeds are free to propose the varieties they wish, with the aim of promoting cultivated biodiversity and increasing the availability of seeds on the organic market. Their production is intended for amateur gardeners but also for professional farmers with sales in short circuits.
All varieties are free of rights and available to everyone.


---
The seeds produced by Vitale Rassen can be ordered through its online shop and are delivered by Post throughout Belgium and the Netherlands. The association guarantees a delivery time of maximum 14 days after receipt of payment.
Belgian customers can also choose to pick up their order free of charge at the Akelei farm shop in Schriek (during opening hours). Vitale Rassen distributes its seed production in various sales outlets in Flanders and the Brussels-Capital Region. It also participates in different events (fairs, seminars, etc.) to share its collection, working closely together with VELT. Last but not least, it offers a study day at the Akelei farm, in collaboration with ILVO. The 2021 theme is: 'traditional varieties, new opportunities'.
Professional growers who wish to order larger portions than those shown in the webshop can contact the organisation.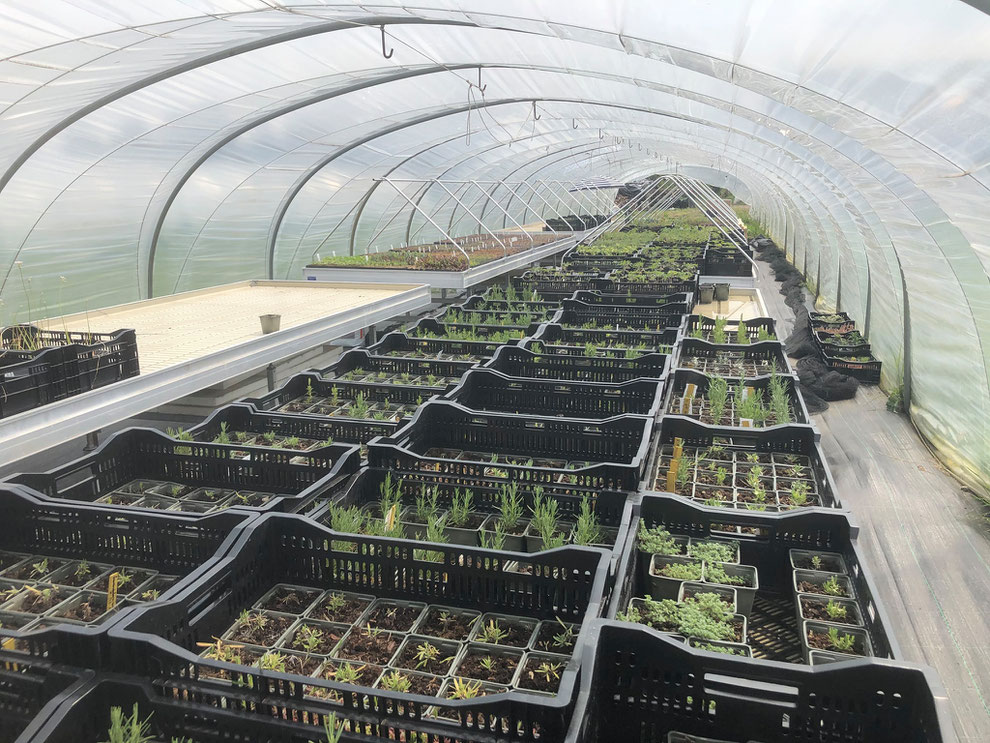 ---
Supporting Vitale Rassen's commitment and farmers' work starts by buying the seeds and spreading the information to your own networks!
The association welcomes interns but no punctual volunteers.
It is possible to help it building up seed initiatives to its full potential by making donations. Contact the association to know more.
To keep informed about the ins and outs of Vitale Rassen, you can follow its Facebook page!