Zelena Mreža Aktivističkih Grupa – the Green network of activist groups – is a non-governmental organization founded in 2002, in the village of Vukomerić, near Zagreb, in Croatia.
ZMAG currently employs 8 people and regularly welcomes volunteers and interns. 
Following a shared governance model – horizontal organization and decision-making by consensus – ZMAG's team is fully dedicated to implement and promote innovative or alternative living solutions, more environmentally friendly.
---
Since its creation, ZMAG has conducted several experimental projects, focusing on strengthening sustainable living and growing solutions, new education methods and socioeconomic systems.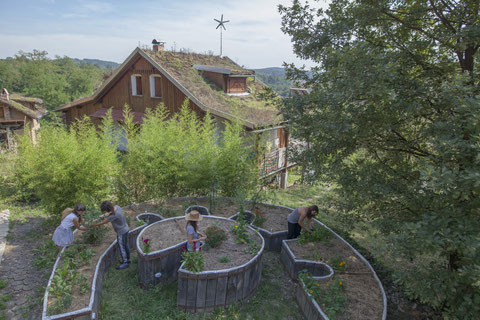 The association primarily supports the development of alternative models that have to be shared and replicated, to be proved efficient. For that mission, ZMAG is part of one of the eight Centers of knowledge promoting sustainable development in Croatia.
One of its major actions is education. The association hosts and teaches a wide array of classes about permaculture, green building (use of local, natural and recycled materials, energy efficiency, biotecture, etc.), green technologies (solar water systems, biodiesel, etc.) and green DIY in general (natural cosmetics, food fermentation, etc.). The purpose is to spread to as much people as possible, a set of practices able to change production and consumption patterns within civil society, leading to a less polluting and energy-consuming lifestyle.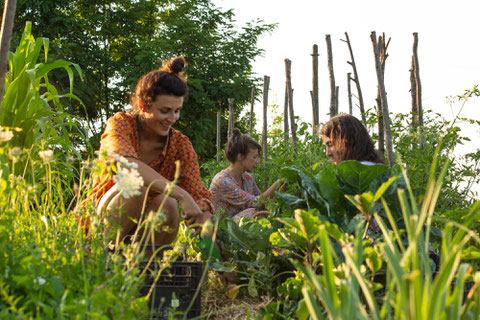 ZMAG's team regularly gives lectures in libraries, cultural institutions and schools in Vukomerić, to expand its scope of influence and action. It has so far published 15 editions, entitled GREEN TOOLS, covering various topics that they had to face and solve in their own experimental projects (available in print and online).
At the agricultural scale, ZMAG is part of a cooperative called "Food for good", gathering ten farming projects with ecological certificates, which offer different kind of products – vegetables and fruits, bread, nuts, natural cosmetics, etc. They have created and work with an app, which facilitates the local supply chain functioning, by connecting consumers' needs to farmers' production, allowing online orders and giving information on the weekly fresh products' collects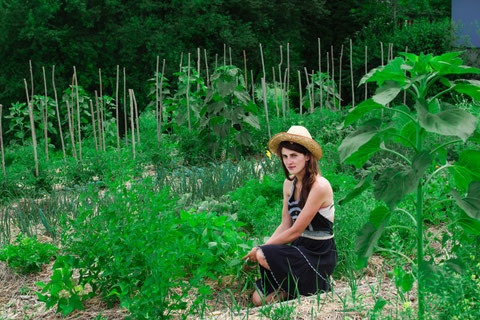 As part of its commitment to support agricultural transitions and sustainability, ZMAG team has created and manages an organic seed bank, with the help of several volunteers / partners.
The aim of ZMAG's seed bank is to cultivate and store the association own collection of organic seed varieties, contributing in a more direct way to saving seeds and enhancing biodiversity for future generations.
The association would like to further develop that project by enforcing a Community Seed bank (CSB), which would be owned by its members through Community Seed networking and knowledge sharing. The CSB could be open to the public and reach, beyond the seed collector community, food producers, small-scale farmers and consumers.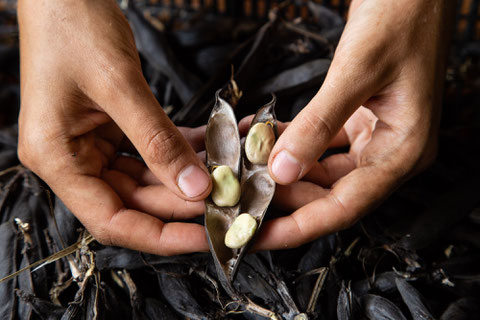 ---
ZMAG's seed bank contains over 400 seed varieties, from which 230 come from Croatian organic gardeners who have been keeping them for generations, and around 200 else come from all over the world. ZMAG received a donation of 125 Croatian varieties from Arche Noah at its start. 
To maintain and enrich its collection as well as to contribute to traditional seed varieties free movement, ZMAG organizes twice a year a public seed exchange, bringing together the local organic seed collector community.
ZMAG's seed collection is open to members only. Every year the association releases a catalogue of seeds, in which members can find a short description of each varieties currently detained and adapted methods of cultivation.  
---
Twice a year ZMAG organizes public seed swaps in Zagreb and tries to replicate it all around Croatia, offering seed swaps in public libraries or responding to the invitation of other seed savers organizations. 
It is possible to contact the association through its website to arrange a seed exchange.
The association agrees to send seeds by post at regional, national and European scales.
---
ZMAG's annual membership fee is 250 HRK (around 33 EUR).
You can choose between 2 types of membership:
Being  a "sympathizer", you will annually get packages of seeds you can fully benefit from. 
Being a "gardener", you'll also receive seeds annually and commit to return at least half the seeds you've grown to the association, in order to contribute to the enhancing of ZMAG's collection and capacity of distribution.
You can also sponsor the association's activities by donating as much money as you want, without receiving seeds in return.
ERSTE&STEIERMÄRKISCHE BANK d.d.
IBAN: HR5324020061100095765
The money goes to a solidarity fund managed by ZMAG's members and partners. Fees are used to finance activities of the seed network and help active members in purchasing small equipment necessary for their work of cultivation, education and implementation of various workshops.
Beside members, ZMAG welcomes volunteers for short-term period (7 days), offering them accommodation.
ZMAG's land is open to the public every Thursday. Once a year In September it celebrates its birthday and in Spring, it organizes the "Permaculture day" as well as the Natural Building Convention – a two-day festival featuring demonstration workshops, project presentation, lectures, fairs, panel discussions and parties! All of these events are open to the public and can be the opportunity to discover the project !