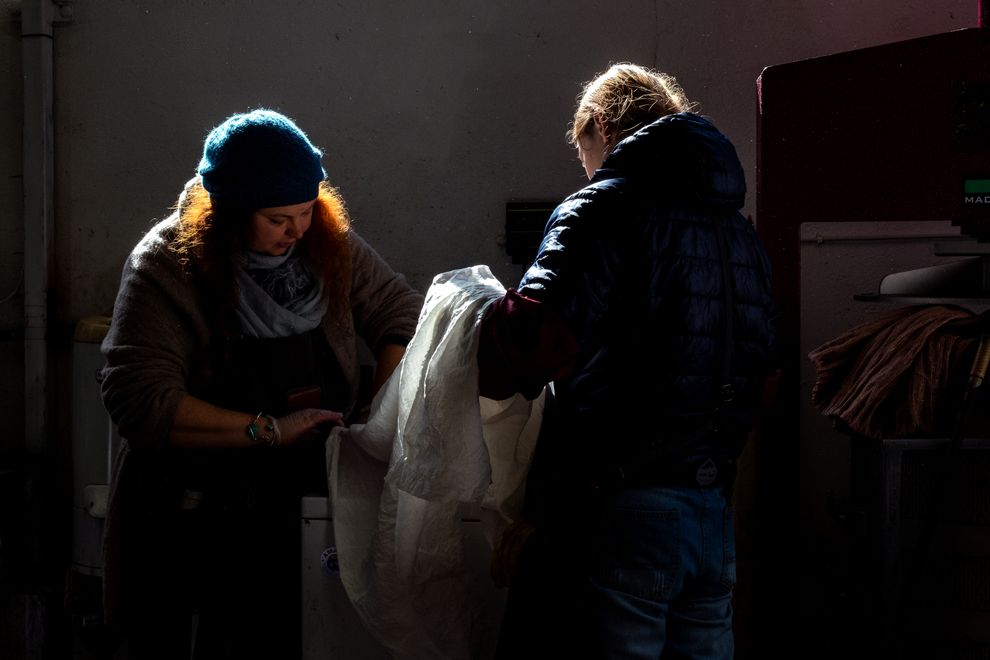 Jennifer and Cosima work on dyeing a linen sheet © Adèle Violette
From March 22 to 26, 2023, project coordinator Adèle Pautrat travelled to Ireland for a series of visits to projects led by various partners.
From re-enchanting pride for local crops and know-how to real world solutions to help relocate historical production sectors, Adèle could explore from different angles how best to instil self-sufficiency and resilience in rural territories. Throughout the journey, one common thread emerged: the crucial role that agrobiodiversity plays in driving territorial transitions and rural revolutions.
In the second article recounting Adèle's visit to Ireland, the focus shifts from food crops to textile production and the centrality of agrobiodiversity to efforts to revive and reimagine the Irish textile industry.
The Irish textile industry has a long and rich history, dating back to the Middle Ages. At its peak in the 19th century, it was a significant contributor to the country's economy, with a main focus on linen, wool production, hemp and nettle. Undermined by increasing competition from other countries and the introduction of cheaper fabrics - cotton from the USA and, more recently, synthetics from Eastern Europe and Asia - the industry has declined significantly since the 20th century.
A few small-scale craft businesses have survived and with them some traditions associated with Irish fibres. In recent years there has been a growing interest in reviving the industry by focusing on sustainable and locally sourced materials. However, as a result of the collapse of the industry, this dynamic faces a major problem: the massive loss of knowledge, skills, infrastructures and raw material, including Irish-grown breeds and species associated with the craft of weaving, spinning and dyeing.
Reviving the industry primarily means recovering the missing expertise as well as enhancing agrobiodiversity, referring to the variety and variability of plants, animals, and microorganisms that are used in agriculture and contribute to agricultural productivity and resilience.
The vision we share with the partners we met in Ireland, is that agrobiodiversity should be enhanced and managed locally, rather than imported. In this way it can provide a sustainable and diverse range of materials adapted to local soil and climate conditions, reflecting a territory's cultural heritage and supporting its communities. In other words: agrobiodiversity is a crucial driver of rural development
Considering the commitment of the Irish Seed Savers Association to saving heritage crops, it was only natural that the social enterprise would take on a new challenge to embark on the selection and cultivation of plants adapted to the needs of textile production, in partnership with several Irish organisations and networks.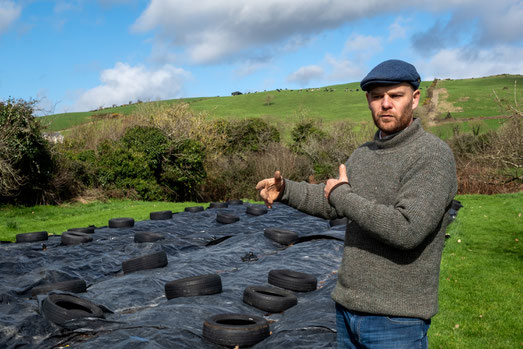 During my visit to ISSA's land in Co.Clare, Tristan Lienhard, ISSA's training coordinator and seed quality manager, excitedly shows me the small plot, currently covered with a tarpaulin, on which the association plans to seed 23 heterogeneous varieties of flax, as part of a research project conducted with the Mallon Linen Farm (Co. Tyrone).
He still has to find at least four additional commercial varieties that will serve as control groups. A workshop is planned in July to present the first growing results, offering valuable information on fibre quality and growth patterns, key aspects to be understood for people seeking to optimise the production and transformation of flax and linen.
Tristan Lienhard in the Irish Seed Savers' gardens © Adèle Violette
Tristan is the main actor of this new adventure at ISSA. And with good reason: he and his wife Jennifer, both passionate about plants and concerned about rural development issues, also founded the natural dye company Apple Oak Fibreworks, looking at the possibility of sourcing and growing some of the dye plants in Ireland.
A few metres from ISSA's greenhouses housing incredible varieties of onions, cabbage, lettuce and beetroot, Tristan introduces me to three varieties of traditional dyeing plants bred for Apple Oak: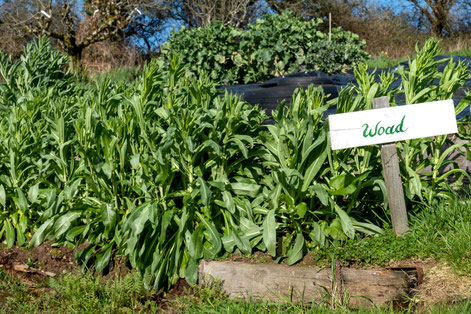 Isatis Tinctoria (woad) is a biennial whose leaves were widely used in Europe until the end of the 15th century to produce a light blue colour. After the European colonisation of America and the opening of the sea route to India, tropical indigo entered the European market at a competitive price and dethroned woad, whose cultivation is nowadays very minimal.
Rubia Tinctorum (madder) is an annual perennial plant that has been cultivated for over 3000 years. Its roots and rhizomes contain alizarin and purpurin, which have the property of giving tissues a red colour.
Reseda Luteola (weld) is one of the oldest (biennial) dye plants, the stems and leaves of which are used to produce a deep yellow dye lasting forever. It grows easily and anywhere, which is why it is considered invasive and banned in some parts of the world, such as the United States.
These three dye plants are now the cornerstone of AppleOak's commitment to local and sustainable development, which I had the privilege to discover during my one-day visit to the company's premises.
Leafy woad stems in March, in the ISSA gardens © Adèle Violette
Tristan shows me the different dyeing plants grown in ISSA gardens: the lady bedstraw (yellow), the madder and the woad  © Adèle Violette
Apple Oak's environmental approach is reflected in a number of innovative and forward-thinking practices.
The size of the company is limited by the capacity of the environment to absorb the externalities associated with the business. Only rainwater is used for the dye baths, which are kept below 85°C to save energy – increasing the time and cost of the dyeing process.
The mordants (substances or chemical compounds used to strengthen the bond between dyes and dyed fibers, which play a crucial role in guaranteeing the color fastness and durability of dyed fabrics or materials) are handled with care and the wastewater is systematically filtered through various settling tanks to remove any iron or alum particles that could cause pollution.
Once cleaned, it is channelled through pipe systems to a nearby forest, reducing water wastage while fertilising the surrounding soil. The plant material is recycled through a vermicomposting system.
Jennifer and Tristan's self-built water filtration system © Adèle Violette
This was my first time visiting the premises of a craft company specialising in a textile activity, and everything fascinated me. The machines, the colours, the smells, the slowness and precision of the gestures, the patience required to achieve satisfactory results.
Natural dyeing is a labor-intensive process that requires a deep understanding of the properties of different natural materials, including plants and minerals. In addition to the mordants, various techniques are employed to extract the colour from these materials. Processes can take anywhere from several hours to several days or even weeks to achieve the desired hue, saturation, and colourfastness.
In contrast to synthetic dyes, which can be created with precise colour matching and consistency, natural dyes can produce subtle variations in colour due to variations in the raw materials or the extraction process. Often seen as a desirable characteristic that adds depth and richness to the final product, these inevitable variations do not exempt artisans from having to master the recipes at their fingertips, especially if they wish to embark on a commercial activity.
Photo reportage from AppleOak FibreWorks, showing natural red and yellow dyeing processes © Adèle Violette
Jennifer takes time to show me her impressive recipe grimoire in which she has rigorously recorded the steps for creating a large variety of colours. On the day of my visit, she is working simultaneously on three customer orders: a yellow dye, a red dye, and a chocolate brown dye. Observing the different processes, I can sense the rigor required to reach a final product that would meet the customer's expectations, while limiting the number of costly tests in terms of time, energy, and money.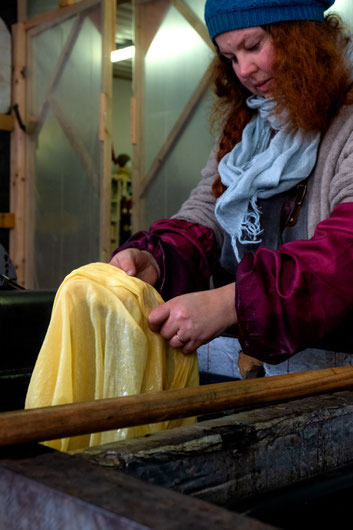 In this regard, Jennifer laments the decline of natural dyeing knowledge and its impact on new initiatives aimed at promoting a sustainable model of development. Natural dyes have been back in fashion since the 70s/80s following a long period of underuse due to the emergence of chemical dyeing processes. According to Jennifer, it was like starting from scratch again – and she recognises the remarkable work done by sustainable natural dye pioneers who have managed to recover essential knowledge for the survival of this craft, which remains challenging to develop on a commercial scale.
The precision, reliability and socio-ecological sustainability of the work carried out are the only means of justifying the prices of her services, which are as uncompetitive in the globalised world of the 21st century as they were when the industry of Irish textiles collapsed in the 19th century. Production costs based on locally sourced sustainable materials and the expertise of local communities are particularly high. As a consequence, convincing clients of the added value of her work and the importance of supporting structures like hers that carry the ideal of sustainable local development at heart, is a constant effort.
Jennifer is definitive: the sustainable textile production sector in Ireland will not grow beyond the small scale, as it does not have the capacity to compete with the globalized trends of accessible fast fashion at scandalously low prices.
And in fact, it is precisely against this unsustainable model that initiatives like hers are built, primarily focusing on the necessity to revive local expertise and development. This calls for a profound paradigm shift towards ethical fashion behaviours that would promote the access to high-quality, long-lasting products. There is still a long way to go and, to date, the restructuring of a local production sector of Irish-grown textiles faces many obstacles, deeply related to agricultural and agrobiodiversity issues.
Wishing to dig deeper into this question, we took advantage of our stay in Ireland to bring together various stakeholders engaged in this direction, as part of the Feeding Ourselves event organised in Cloughjordan on March 25 and 26, 2023. The next and final article of this series will report on these discussions.
To be continued in a future article...
Many thanks to Jennifer and Tristan Lienhard, their son and Cosima, for the warm welcome and the time they devoted to my visit and my questions.
Interested in a look at the process of naturally dyeing
a linen sheet using a variety of locally sourced weld?
Check out our short video filmed March 23 at
AppleOak FibreWorks!
Activate the subtitles to have the necessary information :)

---